Big Bus Discover Plus 3 Attractions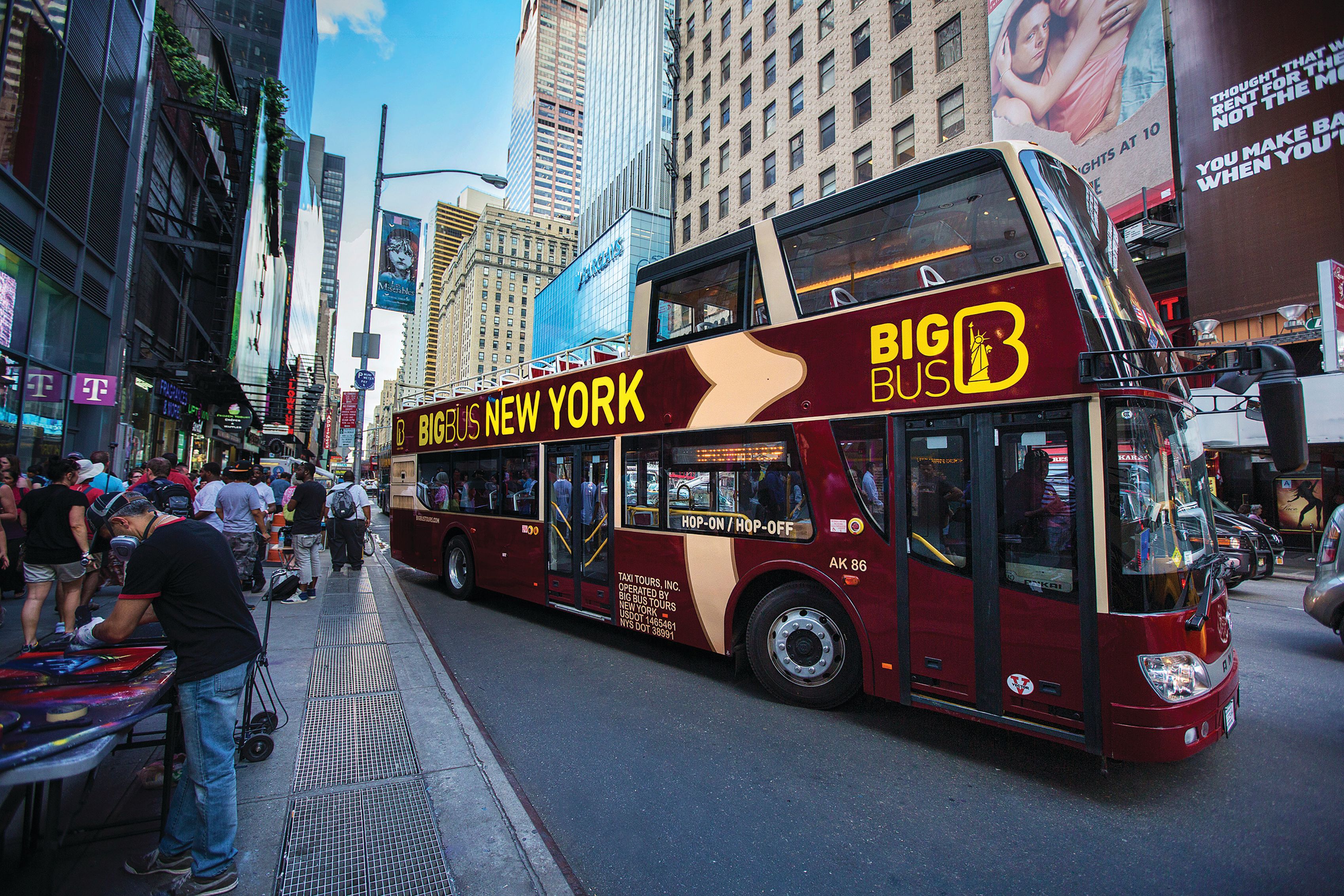 TOUR DESCRIPTION
See the icons in a New York minute! If you're looking for an overview of Manhattan, the Classic Tour is the perfect choice. This tour gives you access to the Downtown and Uptown Loops allowing you to explore all the highlights that Manhattan has to offer. Heading downtown you will see New York's famous landmarks; from Times Square to the Empire State Building and the world-famous Brooklyn Bridge. On the Uptown Loop, you will see parts of Midtown, including Bryant Park and Grand Central Station, before heading north to catch views of Central Park and Museum Mile. Hop on or hop off at your leisure to create your own customized journey around the city. These unique loops stop at major key points of interest all around spectacular New York. Big Bus Tours really is the best way to discover all that New York has to offer.
To make the most of your adventure, your package includes three attraction add-ons of your choice! No need to choose in advance – you can decide when you redeem your voucher. Choose from the very best attractions in NYC, including:
- Escorted 5 HR Tour
- The Edge
- The Museum of Broadway
- Luna Park All Day Wristband NYC
- American Museum of Natural History
- One World Observatory NYC
- Rise NY
- Manhattan by Sail - Clipper City Daytime Sail
- NY Aquarium NYC
- Museum of Modern Art NYC
- The Whitney Museum of American Art NYC
- Guggenheim Museum NYC
- New York Botanical Garden
- Tour of St Patrick's Cathedral - Gold Pass
- SpyScape Pass NYC
- Fotografiska New York
- All Day Bike Rental - Bike Rent NYC
- Freedom Liberty Boat Tour
- And NYC Big Bus Downtown Discover Tour
For the ultimate New York City experience at an unbeatable price, book your Big Bus tour package today!
MORE INFORMATION
After the first redemption, packages expire after 14 days.
Big Bus Discover Plus 1 Attraction
Duration: 90 minutes if you stay on; however, you can hop on and off throughout the day
Operates: Every hour from 9:30am to 4:30pm
Present your e-tickets to one of the agents across the street from M&M World at 48th Street and 7th Avenue (Stop 1)
Stops available on the Downtown Loop are:
M&M's World (Stop 1 - 7th Ave & 48th St
Empire State Building / Koreatown – 5th Ave & W 32nd St
SoHo - Broadway and Spring St
Chinatown / Little Italy - 100 Lafayette St (corner of Walker St)
Brooklyn Bridge - Park Row and Beeckman St
Wall Street - Broadway and Wall St (SW corner near Rector St)
Statue of Liberty / Battery Park – State St
Circle Line Sightseeing – 40th St & 12th Ave
Times Square East - W 42nd St and Broadway
Flatiron District - 5th Ave and 23rd St
Available Tour Languages
Service Notice
Bus schedule is subject to change due to street closures, weather conditions and other circumstances beyond our control. Visit https://www.bigbustours.com/en/new-york/service-information to see current service changes.
Closed dates:
Sunday, June 25th, 2023 – Pride Parade NYC
Thursday, November 23rd, 2023 – Thanksgiving Day
Sunday, December 31st, 2023 – New Year's Eve